Hardwood floors add a lovely touch to any room or office space.
However, whilst they are aesthetically pleasing, cleaning wood floors is not as simple as cleaning other types of standard flooring.
You'll need to consider the wood finish and the type of wood installed.
Find out how to clean wood floors correctly by following some of the tips below:
Daily Cleaning
As with any other kind of floor, routine office cleaning is important.
In high traffic areas, a daily sweep or vacuum is recommended.
If you prefer vacuuming, use a floor-brush attachment.
Avoid using a beater bar attachment for hardwood floors as this could cause scratching.
This can then be followed by mopping.
It is a good idea to use a mop that has been treated with a dusting agent.
This will enable the mop to better pick up the dust and dirt from the floor.
Microfibre heads for mops are best as this material is ideal to trap dust and other dirt.
Also, always pass the mop in the same direction as the wood grains.
Bear in mind that dirt and grime will build up over time, and so a weekly dusting, at least, is of the essence.
Deep Cleaning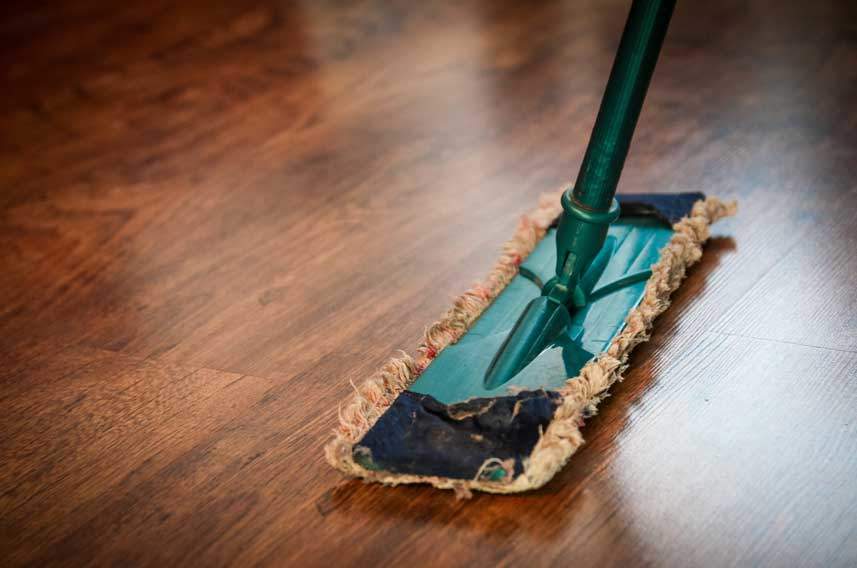 A proper deep cleaning of hardwood floors should be done at least once a year.
It is a good idea to do this either in the beginning of spring, or before the winter starts.
Use a floor mop and a wood floor cleaning product.
Make sure that you dilute it properly following the instructions.
Then saturate a rag mop into the cleaning solution and wring it until it is damp.
Make sure you do not leave it with too much cleaning solution.
You can also use a sponge.
Start mopping the floor little by little, making sure that you do not leave any standing water.
Rinse with clean water if the cleaning product you used recommends this.
Then wipe up any liquid that is visible on the floor.
You could also switch on a fan or air conditioner to speed up the drying process as the biggest enemy to wood is letting standing water on it.
Choosing the Best Wood Floor Cleaner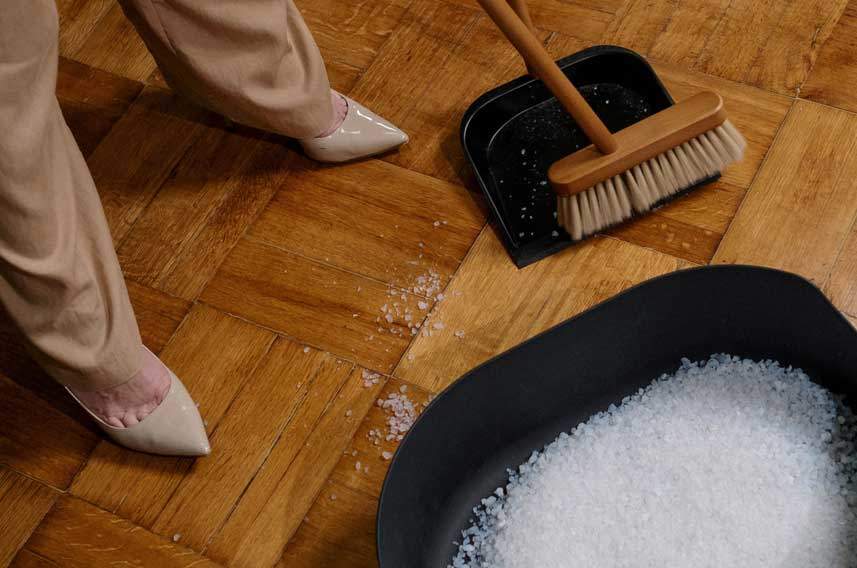 If you go shopping for a wood floor cleaner, you are going to find several brands.
You might feel a bit unsure which is the best option.
The following are some tips that can help you choose the best wood floor cleaner for your floors.
You may wish to consult with the flooring manufacturer if there are any specific brands of floor cleaners that they would recommend to stick to.
Choose a product that is specifically made for cleaning wood floors. There are some cleaners that are more generic, and are said to be good for wood, vinyl and tile flooring. Avoid such cleaners. A good floor cleaner for wood is not going to be good for other kinds of floors.
You can play it safe by checking that there is a Greenguard Gold certification on the product.
Stay away from anything containing ammonia, or alkaline solutions as these will almost surely dull the finish or even cause scratches.
Avoid using any oils or waxes. Oil leaves a residue and wax is very time consuming to apply.
Avoid any sprays as these could cause the floor to be slippery.
Natural Cleaning Options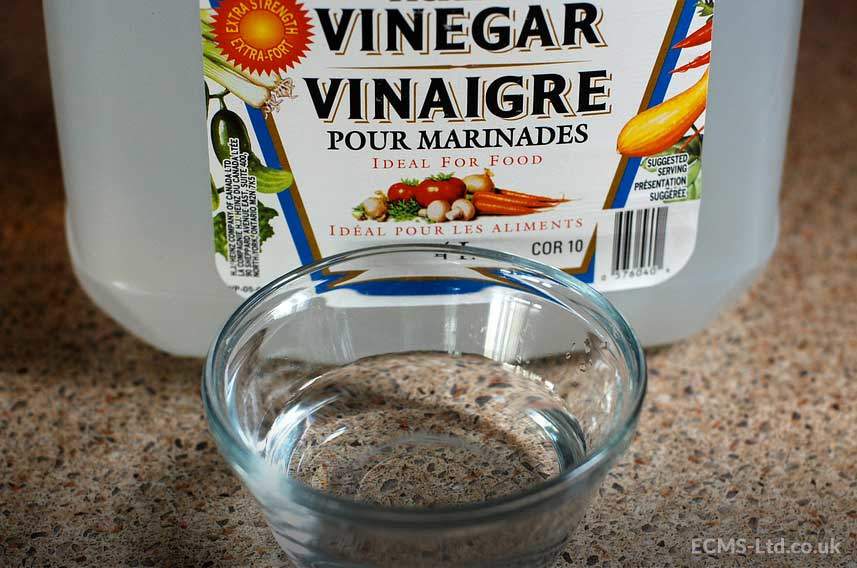 Instead of buying a wood floor cleaner off the shelf, you could opt for natural cleaners.
Vinegar for instance, generally works quite well as a wood floor cleaner.
Always make sure to test it on a small, inconspicuous area so as to make sure that it does not do any damage to your wood floor as in some cases it could dull the finish.
To clean wood floors with vinegar, it is best to add half a cup of white vinegar to a gallon of lukewarm water.
You could also use some lemon juice.
The most important thing is that you do not use large quantities.
Alternatively you can opt for plain soap and water!
This is cheaper and still effective enough. Just stick to a pH-natural soap.
Cleaning Stains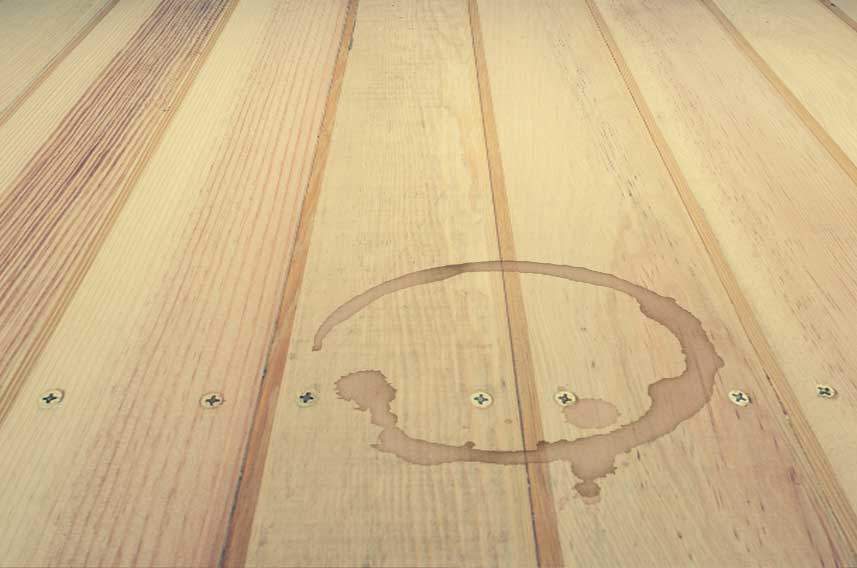 In case you are dealing with a stain on your wood floor, you need to be extra careful as it may not be that easy to remove, especially if you use the wrong method or cleaning product.
The stain may have remained on the surface because your floor has a hard finish, or it may have penetrated into the wood, often because the floor has a soft finish that is not sealed.
In case of a floor with a hard finish you just need to act quickly and wipe off the stain with a soft clean cloth.
Never use anything abrasive as you would damage the wood finish.
On the other hand, if the floor has a soft, oiled finish, you will need special treatment for stains.
Any dark spots and stains caused by pet accidents can generally be removed with some vinegar left to soak in the wood for at least an hour and then rinsed with a damp cloth.
Oil based stains can generally be removed by rubbing with a soft cloth and some dishwashing liquid as this will help to break down the grease. Once the area is dry, smooth the raised grain of the wood with a fine sandpaper.
Watermarks or white stains can be dealt with with some floor wax. In case the stain goes quite deep, use a No. 000 steel wool and lightly sand the floor.
Waxing and buffing will generally be required for the stained area to match the rest of the floor.
Preventative Measures
Here are some preventative measures you could use in case you have wood floors:
To prevent marks avoid wearing any heels.
Use floor protectors underneath furniture.
Add rugs and carpets to reduce scratches.
Place floor mats at any doors. This is especially important when it is raining.
Ideally always remove outdoor shoes before stepping on the floor. Setting up a boot and shoe removing area is highly recommended.
Conclusion
When it comes to wood floors it is important to be extra careful.
A quality mop and proper cleaning products are important.
You should also keep in mind that the minimum amount of water should be used to clean your wood floor, as even a little moisture left on the surface could cause damage.
If however you're concerned about damaging or discolouring your beautiful wooden floors, then hire a professional to clean your floors instead.